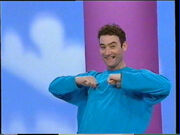 Anthony
is the blue Wiggle. He is known as the Wiggle that loves to eat and plays the drums and guitar, as well as other instruments (mostly the drums). He was actually known that he was originally the green Wiggle in the early days (with the exception of
Yummy Yummy
when he wore an aqua skivvy in some parts), He changed his shirt to blue because if he goes over a chroma key in the background with the green shirt on (like the green shirt from Wiggle Time) the chroma key will reflect the shirt (turn invisible) if he stands in front of the chroma key, so now he is blue. He loves doing sport like football and doing acrobatic tricks.
Ad blocker interference detected!
Wikia is a free-to-use site that makes money from advertising. We have a modified experience for viewers using ad blockers

Wikia is not accessible if you've made further modifications. Remove the custom ad blocker rule(s) and the page will load as expected.