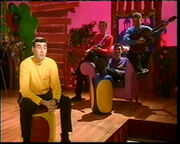 Away in a Manger is a Christmas song from Wiggly, Wiggly Christmas.
Song Lyrics
Edit
Away in a manger, no crib for a bed.
The little lord Jesus lay down his sweet head.
The stars in the bright sky look down where he lay.
The little lord Jesus asleep on the hay.
The cattle a-lowing, the baby awakes.
The little lord Jesus no crying he makes.
I love the lord Jesus. Look down from the sight
And stay by my side till morning is night.
Ad blocker interference detected!
Wikia is a free-to-use site that makes money from advertising. We have a modified experience for viewers using ad blockers

Wikia is not accessible if you've made further modifications. Remove the custom ad blocker rule(s) and the page will load as expected.