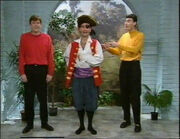 Captain Feathersword's Hat and Sword
is a segment from
Yummy Yummy
and the epilogue for
Henry's Dance
. It starts with Captain doing
Henry's Dance
and takes a bow. He drops his hat! He picks it up and then drops his sword! This repeats until Greg has an idea of having Captain jump into the hat. He fails 2 times. The 3rd time, he jumps into the hat succesfully!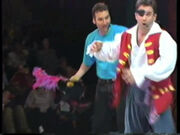 Ad blocker interference detected!
Wikia is a free-to-use site that makes money from advertising. We have a modified experience for viewers using ad blockers

Wikia is not accessible if you've made further modifications. Remove the custom ad blocker rule(s) and the page will load as expected.