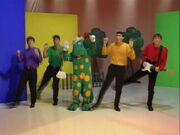 "Dorothy the Dinosaur" is the song were the Wiggles first met, Dorothy the Dinosaur. It made it's debut in The Wiggles.
In 1991, The Wiggles filmed a music video of the song.
It's adapted from a Cockroaches song "It's Another Saturday Night".
Song Lyrics
Edit
Anthony: This is a story of a not-so-scary dinosaur named Dorothy.
Greg: I was lookin' out my window late the other night
She was sitting in the garden and gave me such a fright
Eating all Mum's roses there in the moonlight
It was Dorothy the Dinosaur
I knew that if Mum saw her, she'd never let her stay
A dinosaur as big as that needs feeding night and day
I'd have to find a place where I could hide her away
Dorothy the Dinosaur
Romp-bomp-a-chomp, Romp-bomp-a-chomp (Ooh, roses! I like it here!)
Romp-bomp-a-chomp, Romp-bomp-a-chomp
Romp-bomp-a-chomp, Romp-bomp-a-chomp
Dorothy the Dinosaur (chomp)
I knew that she was so big that she'd soon be found
My mother called the dog catcher he came around
When he laid his eyes on her, he fell to the ground
"Now I take it that's Dorothy the Dinosaur."
Romp-bomp-a-chomp, Romp-bomp-a-chomp (I'm hungry!)
Romp-bomp-a-chomp, Romp-bomp-a-chomp (Can you find some roses in the backyard now?)
Romp-bomp-a-chomp, Romp-bomp-a-chomp
Dorothy the Dinosaur (chomp)
They called up the police to take her right away
They called up the zoo to find a place to stay
I said they couldn't take her, I said "No way, that's Dorothy the Dinosaur."
(That's me.)
Romp-bomp-a-chomp, Romp-bomp-a chomp (Oh, my stomach hurts!)
Romp-bomp-a-chomp, Romp-bomp-a chomp (And I'm still hungry.)
Romp-bomp-a-chomp, Romp-bomp-a chomp
Dorothy the Dinosaur (chomp)
Romp-bomp-a-chomp, Romp-bomp-a-chomp (These roses sure are good.)
Romp-bomp-a-chomp, Romp-bomp-a chomp
Romp-bomp-a-chomp, Romp-bomp-a chomp
Dorothy the Dinosaur (chomp)
Romp-bomp-a-chomp, Romp-bomp-a chomp (Oh, my stomach!)
Romp-bomp-a-chomp, Romp-bomp-a chomp
Romp-bomp-a-chomp, Romp-bomp-a chomp (I like these roses.)
Dorothy the Dinosaur