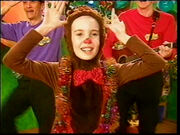 Rudolph the Red-Nosed Reindeer is a fictional reindeer. A male Reindeer with a glowing red nose he is popularly known as "Santa's 9th Reindeer" and, when depicted, is the lead reindeer pulling Santa's sleigh on Christmas Eve. The luminosity of his nose is so great that it illuminates the team's path through inclement winter weather.
Rudolph first appeared in a 1939 booklet written by Robert L. May and published by Montgomery Ward.
The story is owned by The Rudolph Company, L.P. and has been adapted in numerous forms including a popular song, a television special and sequels, and a feature film and sequel. Character Arts, LLC manages the licensing for the Rudolph Company, L.P. In many countries, Rudolph has become a figure of Christmas folklore.
Ad blocker interference detected!
Wikia is a free-to-use site that makes money from advertising. We have a modified experience for viewers using ad blockers

Wikia is not accessible if you've made further modifications. Remove the custom ad blocker rule(s) and the page will load as expected.