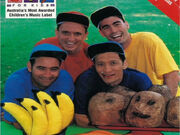 The Wiggles Wake Up Jeff rare promo was first shown on Yummy Yummy from 1994. It shows never before seen clips of The Wiggles in short sleeved shirts, short pants and coloured shoes with laces. It also features a similar but different set from the Wake Up Jeff released. It says Wake Up Jeff is coming out in October 1996. This is one of the rarest Wiggle promos ever.
Ad blocker interference detected!
Wikia is a free-to-use site that makes money from advertising. We have a modified experience for viewers using ad blockers

Wikia is not accessible if you've made further modifications. Remove the custom ad blocker rule(s) and the page will load as expected.