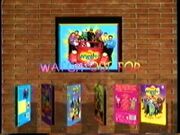 "Watch Out For" is a video preview that was shown on the re-released Wiggledance! Live in Concert.
Videos Shown in Preview
Edit
Big Red Car
Wake Up Jeff
Wiggledance! Live in Concert (which means this video has been previously released)
Wiggly, Wiggly Christmas
Yummy Yummy (re-recording)
Wiggle Time (re-recording)
Coming Soon - Toot Toot!
Ad blocker interference detected!
Wikia is a free-to-use site that makes money from advertising. We have a modified experience for viewers using ad blockers

Wikia is not accessible if you've made further modifications. Remove the custom ad blocker rule(s) and the page will load as expected.