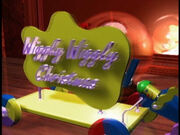 Wiggly, Wiggly Christmas Overture is the opening music from the Wiggly, Wiggly Christmas video. The songs are Jingle Bells, Get Ready to Wiggle and Deck the Halls.
A CGI globe is seen. Later, a toy robot pops up jumping over the globe. He comes back pushing a cart with the Wiggles' logo. He comes back with the cart turned around with "Wiggly Wiggly, Christmas" title. The globe zooms into the house. The toy robot peeks it's head out, quickly. He then shows a green book that says "Have A Very Merry Christmas" on the cover.
Ad blocker interference detected!
Wikia is a free-to-use site that makes money from advertising. We have a modified experience for viewers using ad blockers

Wikia is not accessible if you've made further modifications. Remove the custom ad blocker rule(s) and the page will load as expected.